Kardashian Jenner Round-Up: Kylie Jenner Is Officially the World's Youngest Billionaire!
Try and Keep Up!
Lara Sophia March 6, 2019 10:22am
Another week, another Kardashian-Jenner roundup. There's so much Kardashian-Jenner news out there that it will make your head spin. But we've got the hottest stories for you, so hopefully, you can keep up!
Here's everything that went down with the KarJenner clan this week.
At 21 Kylie Becomes the Youngest Self-Made Billionaire 
Kylie is officially the youngest billionaire and she's only 21! Forbes reveals that the youngest Kar-Jenner is worth $1 billion thanks to her Kylie Cosmetics company, which she solely owns.
As for her astronomical success, Kylie says she never saw it coming.
"I didn't expect anything. I did not foresee the future," Kylie tells Forbes. "But [the recognition] feels really good. That's a nice pat on the back."
Meanwhile, Kylie owns the fact that her KUWTK fame paved the way for the success of Kylie Cosmetics. But she also insists that social media and its power played a huge role in the success of her brand.
"It's the power of social media," Jenner says. "I had such a strong reach before I was able to start anything."
Kylie's Kylie Cosmetics company is estimated to make $330M this year alone. As for her sister Kim Kardashian, who is also in the makeup business, she's estimated to make $100M with her KKW Beauty line.
Jordyn Reveals That Khloe & Tristan Were Already Broken Up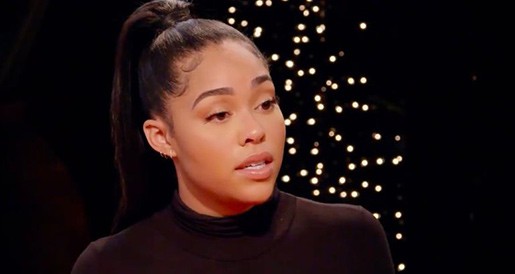 Jordyn Woods admitted to kissing Tristan Thompson during an interview with Jada Pinkett Smith's on her Facebook Watch show, Red Table Talk but denied that anymore went down between them.
In the interview, Jordyn confessed that she wasn't immediately truthful with Kylie or Khloe about what happened.
"I had talked to Kylie and Khloé in the morning and I told them I was there. I had talked to Khloé and she asked me what was going on, was everything fine? And in my head of trying to forget that part of the story, I was like, 'You know, no he was chilling, everything was okay. There were girls there but he wasn't all over the girls,'" she said.
"I was honest about being there, but I wasn't honest about the actions that had taken place," Jordyn added, insisting that she was "trying to protect Khloé's heart."
As for claims she hasn't apologized to the Kar-Jenner clan, Jordyn says, "I did as much apologizing as I could do over the phone, over the text." "And until I get the opportunity to talk face-to-face, could she really feel, you know, what I was saying? But I reached out and the opportunity is there," she added.
Jordyn also owned up to the fact that she should have NEVER been at Tristian's house. While defending herself, Jordyn accidentally revealed that Khloe and Tristan were already broken up when she and Tristian kissed.
"We're all dancing and drinking. I'm not thinking, 'I shouldn't be here. And that's my first step where I went wrong. And how would I feel if someone close to me is hanging at my ex's house—the father of my child? I didn't think about that. That's the first part of the problem. I should have gone home after the party." 
Khloe Retracts Her Claims That Jordyn Broke Up Her Family; Blames Tristan 
Speaking of the Khloe, Tristan, and Jordyn saga, Khloe retracted her statement that blame Jordyn for breaking up her family. Instead, Khloe puts the blame solely on Tristan.
Initially, Khloe lashed out at Jordyn for lying. Khloe claimed that Jordyn never apologized to her privately, and instead was more concerned about saving herself by going public. Khloe ended her tweet by claiming that Jordyn broke up her family. Yikes.

At the same time, Khloe also addressed why she wasn't publicly going after Tristian. Khloe explained that Tristan was discussing the situation privately, so she wasn't calling him out publicly out of respect for their daughter.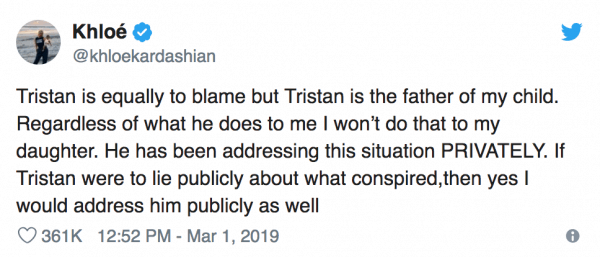 Then the next day, Khloe apologized for putting the blame on Jordyn. In a series of tweets, Khloe explains that she initially lashed out at Jordyn because she couldn't believe someone she thought of as a little sister would betray her like this.


Kourtney Previews Her Latest Project – Poosh; Almost Breaks the Internet 
Kourtney may have been dubbed the least interesting Kar-Jenner to look at by her sister Kim but she's proving everyone wrong with her latest project.
Earlier this week, Kourtney teased her latest project – a website called Poosh. While we don't know much about Poosh rumor has it, it will be a GOOP-esque website with beauty, fashion, health, wellness, and lifestyle tips.
Kourtney made sure to #Pooshtheboundaries when announcing her latest project. And she did just that by posing naked in her bathroom with a computer and coffee mug strategically placed over her boobs.
Whatever Poosh may be, the site's Instagram account already has 2.3M followers. Talk about the power of the Kar-Jenners!
Kylie Accuses Travis of Cheating 
The youngest Kar-Jenner is experiencing some trust issues after her family was betrayed by her BFF Jordyn Woods.
TMZ reports that a week after the Khloe-Jordyn-Tristan drama broke, Kylie accused her boyfriend Travis Scott of cheating.
"Kylie had a rough week," a source tells PEOPLE. "She is still devastated about Jordyn and had an argument with Travis after she checked his phone and saw something that she didn't like."
However, the source makes it clear, "Travis says he didn't cheat." As for Kylie, she "was upset at first," but "seems better" now. "She isn't breaking up with him," the insider adds.
A rep for the rapper denies that Kylie and Travis had a fight about cheating.
Khloe and Kylie Skate Past Any Drama at Birthday Party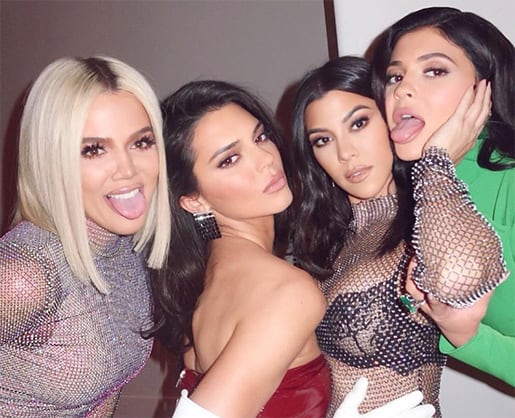 Drama? What drama? The Kar-Jenners skated past the drama as they celebrated Kylie's assistant Victoria Villarroel's birthday at Skateland in Northridge, CA.
Kourtney Kardashian, Khloe Kardashian, and Kendall Jenner joined their sister Kylie for some fun at the rollerskating rink. The famous family was joined by several of their well-known friends including Tyler the Creator, Fai Khandra, Anastasia Karanikolaou, and Tiffany Sorya.
"All of the sisters seemed to be in great moods and were all laughing and having fun together while skating," a source shared with E! News. "They all took turns holding each other's hands. Kourtney and Khloe were by each other's sides a majority of the night."
Sources say that for Khloe and Kylie the evening was "a nice diversion from all the headlines."
Meanwhile, two of Kylie's closest friends Victoria and Stassi remain friends with Jordyn and still follow her on Instagram. However, the two seem to be set on proving their allegiance to the Kar-Jenners and are staying out of the Jordyn drama.
Speaking of Jordyn and Kylie, TMZ reports that the two former best friends have "barely communicated with each other since Tristan Thompson cheated by kissing Jordyn."
Barely is better than nothing.
Vogue's Anna Wintour Gives the Kar-Jenners Her Seal of Approval
If you ever thought Anna Wintour hated the Kar-Jenners well think again! Vogue's Editor-in-Chief revealed her thoughts on Kar-Jenners her latest Go Ask Anna web seiries.
"You have to admire how they have created an empire obviously through their personalities and the creative genius of their mother," Anna revealed coyly. "How they live the way they do … I can't possibly understand or fathom living so much in the public eye, but obviously, it works."
When it comes to Kim K, Anna says: "Kim of all of them has possibly changed the most. I personally admire the way she's become a little bit more minimal in the way that she's dressing and a little bit more covered."
While Anna clearly has a foundess for Kim, it's obvious that supermodel Kendall is her real favorite Kar-Jenner.
"People thought that she wouldn't last, and I give her a lot of credit for persevering and having a successful modeling career," Wintour explained. "She's very open and very direct in the way she talks about how she just wants to be a model, that she enjoys being a model, that she has worked hard at it and I hope she continues. She reminds me in many ways of Linda Evangelista, who was always happy being a model."
Thoughts on this week's roundup? Sound off below! For more Kar-Jenner news check out the Buzz section of TOR!
---